SONDE DI MISURA PER LASER DI POTENZA
cronos the Power Probe: Fast, Accurate, Hi-resolution, Multiple Readings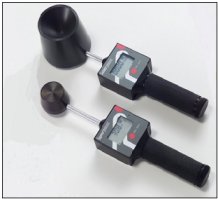 cronos is a fully automatic laser power probe that calculates laser power by a microprocessor based measurement of temperature dynamics. Its patent pending measurement and acquisition technique self-determines the time needed to carry out a measurement: the data acquisition is triggered and stopped by detecting set heat parameters thresholds. This technique is totally free from induced errors due to time exposure determination and may allow multiple measurements without the need of absorber forced cooling.
Four models cover full scale powers from 300W to 10kW. Their innovative measurement concept cuts the time to measure and display down to about 10 s providing excellent accuracy (±3%), repeatability (±1.5%), high resolution (1W up to 10kW full scale) associated with a wide range of power measurement (down to 5% of full scale) on all probe models.
cronos features a large multifunction LCD that simultaneously indicates the measured power, its actual accuracy, wavelength of calibration (CO2, Nd-YAG, Diodes), max power range and low-battery. Furthermore a moving bar shows the actual absorber temperature; this informs the operator whether he can still perform one or more measurements before the absorber reaches its maximum allowable temperature. Additionally the probe status is displayed by a two colour LED, indicating the probe status: probe is ready (steady green), measurement is in progress (flashing green), measurement is over (flashing red) or cooling is needed (steady red).
cronos is operated by a single button, it shuts automatically off after 5 minutes of non operation and always stores its last measurement in memory. Two common AA batteries allow a minimum of 5000 measurements.
cronos has been ergonomically designed in all its details like the LCD display, angled to secure an optimum visibility to the operator and the balance of weights, to provide a comfortable and safe operation. The absorbers feature high damage thresholds, low reflection coatings and are factory replaceable for cost saving.
cronos has been designed to be price competitive respect to lower performance devices.
Key Specifications:
Parameter

LP0.3

LP1.5

LP5.0

LP10

Maximum Measurable Power (W)

300

1500

5000

10000

Minimum Measurable Power @ ±3% Accuracy (W)

30 (1)

150 (1)

500 (1)

1000 (1)

Absolute Minimum Measurable Power (W)

6

30

100

200

Power density damage threshold @ full scale (W/cm 2 at CO2 wavelength)

3000

2600

1900

1500

Measurement Accuracy

±3%

Resolution (W)

1

Repeatability

±1.5%

Maximum allowable absorber temp. (°C)

150

Time to measure and display data at full scale power (s)

10

Time to measure and display data at min. scale power (s)

15

Power consumption in On status (mW)

26

Power consumption in Off status (µW)

25

Power supply (2x AA Batteries) (V)

3

Continuous operation without battery replacement (h)

200

Operating temperature range (°C)

10 to 40

Storage temperature range (°C)

-10 to 60

Weight (g)

360

480

950

1300

Length with handle (mm)

250

300

310

320
(1) Individually calibrated against a NIST reference
*(All specifications subject to change without notice)
Per ulteriori informazioni:

Home | Prodotti | Lista rappresentate | Modulo Informazioni | News | Contatti