9 W, 15W and 25 W CW Fiber Laser Industrial Laser Systems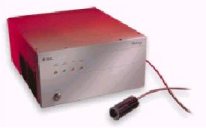 As a compact, turnkey laser system, the FiberLaser provides up to 15 watts of the brightest, diffraction-limited infrared laser light available. The FiberLaser combines very high brightness, fiber-coupled laser diodes with a heat sink and fan along together with a power supply and control electronics in one complete package.
Circular spots as small as a few microns in diameter can be focused onto the work piece or thermal media with a long working distance, providing the user with an intense, non-contact heat source. The nominal output wavelength of the FiberLaser is 1 Ám.
One of the key benefits of the FiberLaser is its compact size, allowing easy placement into industrial and manufacturing environments.
Designed to be simple to operate, the FiberLaser requires only standard wall- plug power and direct air cooling. It can be monitored and controlled by customer- supplied interface electronics via a 40-pin analog connector or by RS232 computer control. The FiberLaser also provides features a diagnostic control unit with cable for manual operation.
Key Features
Diffraction-limited light delivered through fiber termination module

Single transverse mode, collimated beam

Light focusable to <10 Ám spot

OEM subsystem

Compact, air-cooled 1 Ám wavelength
Applications
Marking

Precision cutting and welding

High-resolution soldering

Micro-adjustment

Thin film etching

Drilling and trimming

Thermal platesetting/proofing
Home | Prodotti | Lista rappresentate | Modulo Informazioni | News | Contatti