CONTINUUM Horizon™ OPO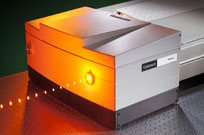 The HORIZON OPO is the first of a new class of mid band OPOs which have a linewidth of down to less than 2.0 cm-1. The HORIZON OPO is a convenient and high performance alternative to dye lasers.
Signal energies to > 110

mJ

per pulse

Linewidths

down

to

< 2.0 cm-1

High efficiency >35%

Complete

tunability

with no degeneracy gap (192 nm - 2,750 nm)

Variable energy option

Standard frequency doubling option for 192 nm to 400 nm

Simple

Windows®7

operating

platform
The HORIZON OPO uniquely features hermetically sealed, desiccated and temperature stabilized crystal housings throughout for higher reliability and performance. Virtually any Continuum Surelite or Powerlite Nd:YAG laser may be used as a pump laser for the HORIZON OPO. The pump laser used may be either injection seeded or non-injection seeded giving the user greater versatility in system configurations.
Home | Prodotti | Lista rappresentate | Modulo Informazioni | News | Contatti