HCT-99D colorimetro
Per utilizzo su sorgenti luminose, led, apparecchi di illuminazione

Description:
Gigahertz-Optik's new and improved HCT-99-D is a compact and portable luminous color and illuminance meter. Now the meter not only measures absolute color values but can also measure the difference in color coordinates x,y or u´, v´ and color temperature as well. So deviations from reference light sources can be measured and displayed easily.
Due to its ease of use the HCT-99-D may be employed in quality control and on the production line – but can deliver valuable data in R & D applications as well.
Luminance of surface emitters or luminous intensity measurement capability is made possible by adding appropriate accessories and calibrations.
The ergonomically designed HCT-99 also features a wide dynamic range and fast signal display. A USB interface is provided for full remote control. In this mode the meter is powered by the PC making continuous operation possible.
In combination with the optionally SRT-front tubes, the Luminance can be measured to specify the contrast situation on work stations and monitors.
Gigahertz-Optik offers user-friendly OS-X1 software for the HCT-99-D as an option. Several HCT-99-D's can be operated in parallel on a USB hub. DLL´s are provided for self-program ming and incorporation into end-user applications and systems.
Calibration is provided by Gigahertz-Optik´s DIN EN ISO/IEC 17025 accredited optical radiation calibration laboratory and is traceable to international standards.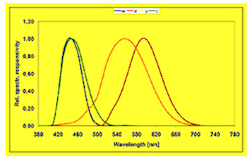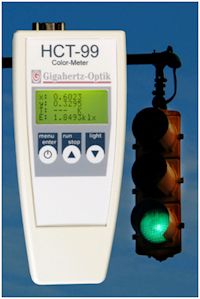 Specification:
Color coordinates x,y, u´, v´
Color temperature
Illuminance
Luminance with Lenses with 1°, 2°, 5° or 10° field- of- view
Photocurrent to voltage converter with 8 decade stepped gain ranges from 0,1pA- 200μA
Gain depending slew rate from 3ms- 30ms
A/D converter with 1ms sampling rate
CW/ Dose/ Color
Adjustable integration time from 1ms- 1s
Signal conversion from 0.166 Hz to >300MHz
LCD- graphic display 97×32 pixel with LED backlight
Operating Temperature: 5 to 40°C (41 to 104°F) (75 % rel. H, non-condensing). Storage Temperature: 0 to 50°C (32 to 122°F).
Dimensions/ weight: 145×63 x 30 mm / 150 g (5.7×2.5×1.2 in /1.1 lb).
USB port setting: USB HID
Power supply: 2x battery size AA (2.2 to 3.2 V); USB operation bus powered
hard case
batteries
USB-cable
USB-DLL
Optionally OS- X1 1 Software
Home | Prodotti | Lista rappresentate | Modulo Informazioni | News | Contatti